Technology Recommendations for Remote Work and Telecommuting
(Last Updated 06/16/2021 - Last Reviewed 07/29/2022)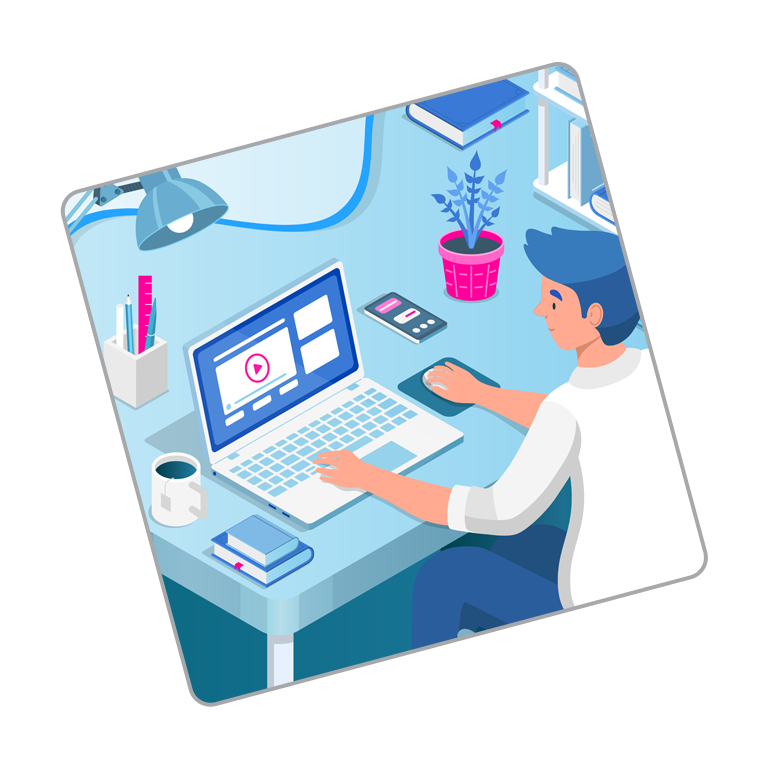 The workplace of the future is likely to be a hybrid of employees working permanently or partially offsite, and onsite employees working in more flexible and shared environments. In order to succeed, remote work and telecommuting programs must be coordinated with remote and collaboration technologies that can support the goals of the program and participating employees. Just as importantly, departments should plan for professional development programs and technical support needed to make effective use of those tools.
This page provides departments with a guide to technical requirements needed to effectively support remote work and telecommuting.
1. Employee Computer
A well-maintained computer with recent specifications aligned with UNM standards is the foundation for remote work. As a baseline, UNM recommends that remote workers be assigned a laptop with an integrated web camera. Most recent laptops have quality web cameras that are more than sufficient. Check out current standards and recommendations. The laptop must be able to run recent versions of the operating system (Windows, MacOS, or Linux) and productivity / communication and collaboration software needed to work with other people in the department and fulfill work requirements. For best value and interoperability with UNM systems, we recommend buying a UNM standard or performance laptop, depending on the nature of the employee's duties. Many staff will find that docking their laptop to a larger display will significantly improve productivity, especially for side-by-side comparison of documents.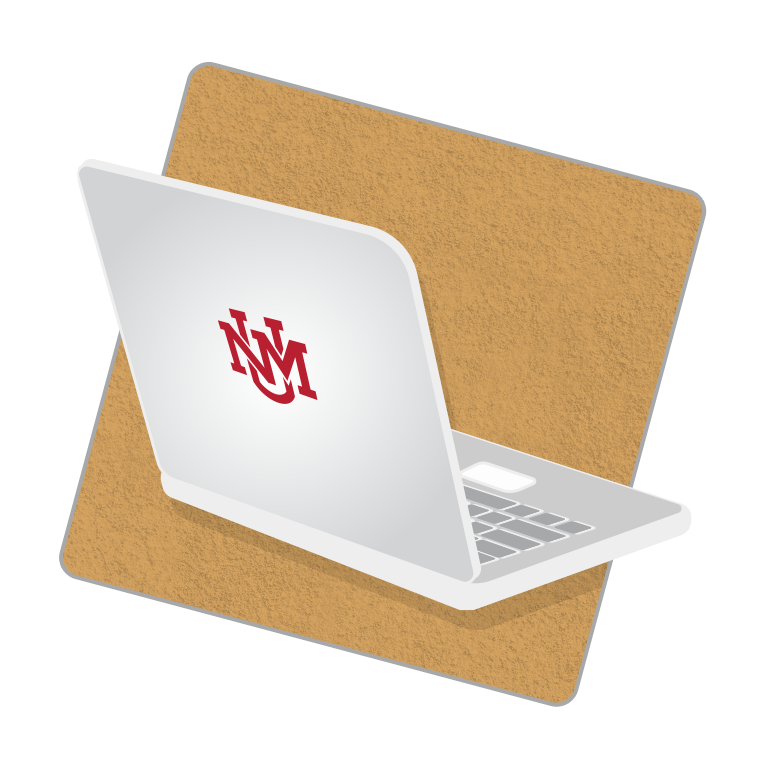 While desktop computers are still an option and may be the best choice in some cases, the portability and flexibility of a laptop can be worth the additional expense and are especially important when there is a need for some fluidity in remote work arrangements.
Advances in computer architectures have greatly increased battery life and computing power, making a laptop the more compelling computer purchase in almost all cases. While just over the horizon, mobile devices and tablets are also increasingly capable and may be suitable as a primary productivity device in the near future.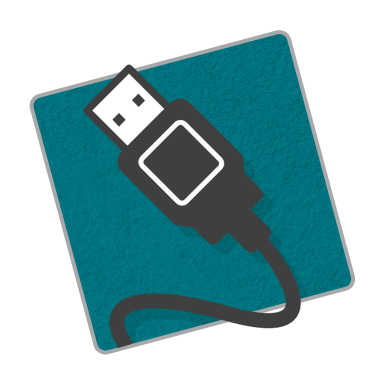 1.1 Peripherals
Employees who work exclusively from home or a remote location will benefit from a large monitor and a separate keyboard and mouse as a docking solution. All employees working remotely should have a headset with an integrated microphone for participation in web meetings and conferences. There are many wired and wireless solutions that work well for this purpose including earbuds, USB headsets, and higher end options. There are many quality options in the $25-$50 range, and the UNM Bookstore has quality headsets for sale.
As a backup for device, peripheral, or Internet connectivity issues, a handheld device and a wired headset are good options. Portable echo canceling speakers can also be helpful for on-site employees needing to connect remote employees into small meetings or conference spaces.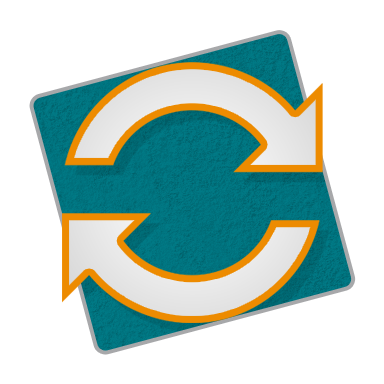 1.2 Maintenance
The security and function of a computer is dependent on regular maintenance. The simplest solution for departments is to participate in UNM's managed workstation program or area IT Support. Through remote assistance tools, technicians can support employees working offsite including remote installation and upgrades of software, and remote troubleshooting through a screensharing solution. In combination with a UNM Standard, managed workstations ensure that the employee has a laptop that is tuned and configured to work well with UNM software and systems. Furthermore, the well-maintained systems minimize security risks through the ability to analyze vulnerabilities and quickly address them. Contact UNM IT Customer Support Services at 505-277-5757 for more information about the managed workstation program or to connect with area support.
Departments who are not participating in a formal workstation program must have a plan for regular maintenance and patching of computers accessing UNM systems.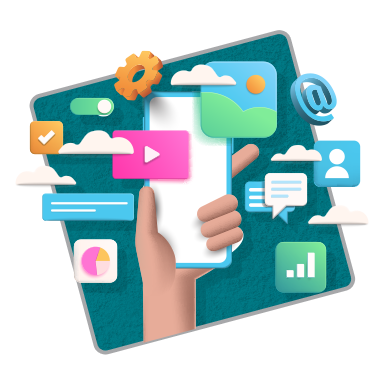 1.3 Software
UNM supports enterprise licenses for many commonly used software solutions. These software titles are available for download from the UNM software store at https://webstore.UNM.edu, and many are installed by default in the standard software image. Check with UNM Software Distribution if you have any questions about titles or availability.
Productivity – Microsoft Office and Adobe Acrobat Pro form the foundation for basic productivity tools at UNM. Depending on the individual's job title, access to Microsoft Office is available as an application suite that can be installed from the Lobomail service. Web-based versions of Microsoft Office are also available to all UNM users. Adobe Acrobat Pro is part of the Adobe Creative Cloud package that is universally available at no or low cost.
Creativity – The Adobe Creative Cloud software package is available at no or low cost to the entire university community and contains an entire suite of tools to support media creation and distribution, from flyers and post cards to videos, infographics, podcasts, and more. These tools can be especially important for adding context and meaning to remote communications and presentations. Support and information about UNM's Creative Campus program is available at https://creativecampus.UNM.edu. Users who are unfamiliar with media creation tools may want to get started by looking at Adobe Express. Both tools are designed to get beginners started quickly and easily while offering powerful design and composition tools.
Collaboration – UNM supports enterprise licenses for Zoom and Microsoft Teams. Departments with remote workers are encouraged to acquire access and use these tools frequently to support communication between employees in the department, to collaborate with other university departments and constituencies, and to develop a sense of community and work culture amongst distributed employees.
Zoom Professional accounts are available on request (no charge). To get set up, visit https://webmeetings.UNM.edu/licensing/index.html to request an account. The site also provides many tips and best practices for using Zoom in a way that protects the security and privacy of your meetings. For departments who want to deliver large webinars or public meetings, the site also contains information on how to set up and/or license webinar add-ons to support these events.
Microsoft Teams is a great tool for maintaining regular chat conversations among coworkers, easily setting up ad hoc and recurring voice and/or video meetings with colleagues, and for sharing and collaborating on files and other work documents. There is an information site for Microsoft Teams at https://itapps.UNM.edu/microsoft-teams/index.html to help you get started with this service.
Specialized departmental software – R, SAS, and Matlab are a few examples of specialized software that employees may need to perform their jobs. A number of these software titles have enterprise licenses or discounts available to support departments with the best possible pricing. Contact UNM Software Distribution for more information.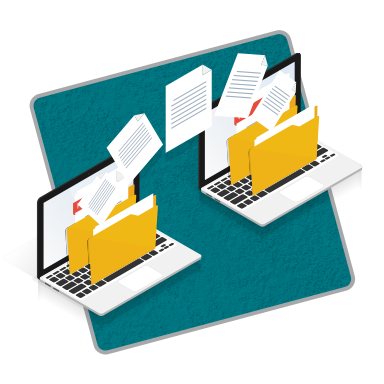 1.4 File Shares, Backups and Security
Just as in a regular office environment, maintaining the security, integrity, and continuity of UNM information and work product is critical, and it is the employee's responsibility to understand their responsibilities for sensitive information that they have access to and to take appropriate precautions. This includes mindfulness around any information that may be printed or accessible on a desk as well as digital copies of information that may be downloaded to local storage.
Whenever possible, it is always safest to leave sensitive information in the enterprise locations where it is stored (e.g. Banner, UNM Jobs, etc.). For staff accessing very sensitive information and/or specialized computing resources, a virtual desktop connection to a service like https://lobovirtualdesktop.UNM.edu might be the best solution.
Microsoft Office 365 is available to UNM students, faculty, and staff as part of the Lobomail service. Microsoft Office 365 includes many tools for working with and saving documents in the Cloud. UNM IT recommends saving work documents in One Drive, which has a desktop client and allows for automatic synchronization of files between a personal computer and the cloud. In addition to making these files available for sharing and collaboration with other UNM Employees, the One Drive solution provides for a cloud backup of files that can be easily recovered or transferred when hardware is damaged or replaced.
Microsoft Teams and SharePoint also provide departments with options for sharing files with workgroups in a manner that is easily accessible and centrally supported.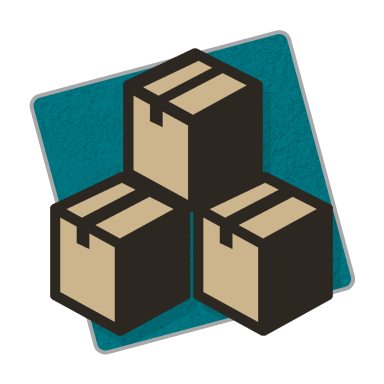 1.5 Inventory
Tracking inventory with remote workers can be challenging, but it is still a required process for all employees taking equipment offsite. Departments should ensure that all employees have completed and signed an equipment checkout form for all equipment that will be taken off-site.
2. Network
Remote workers must have adequate Internet service to support uninterrupted access to web meetings and other work activities during their scheduled shift. While power and network outages will happen, the employee's Internet access should be reasonably reliable for them to function effectively. Network speed and plan requirements will vary depending on overall household usage and the concurrent needs of other household users. Internet service providers (ISPs) including but not limited to Xfinity and CenturyLink in the Albuquerque area can help employees size a plan to support their needs. In sizing recommendations, employees should let their ISP know that they need to regularly participate in high-definition web conferencing sessions in addition to any other media, entertainment, work, or study requirements needed by other household members.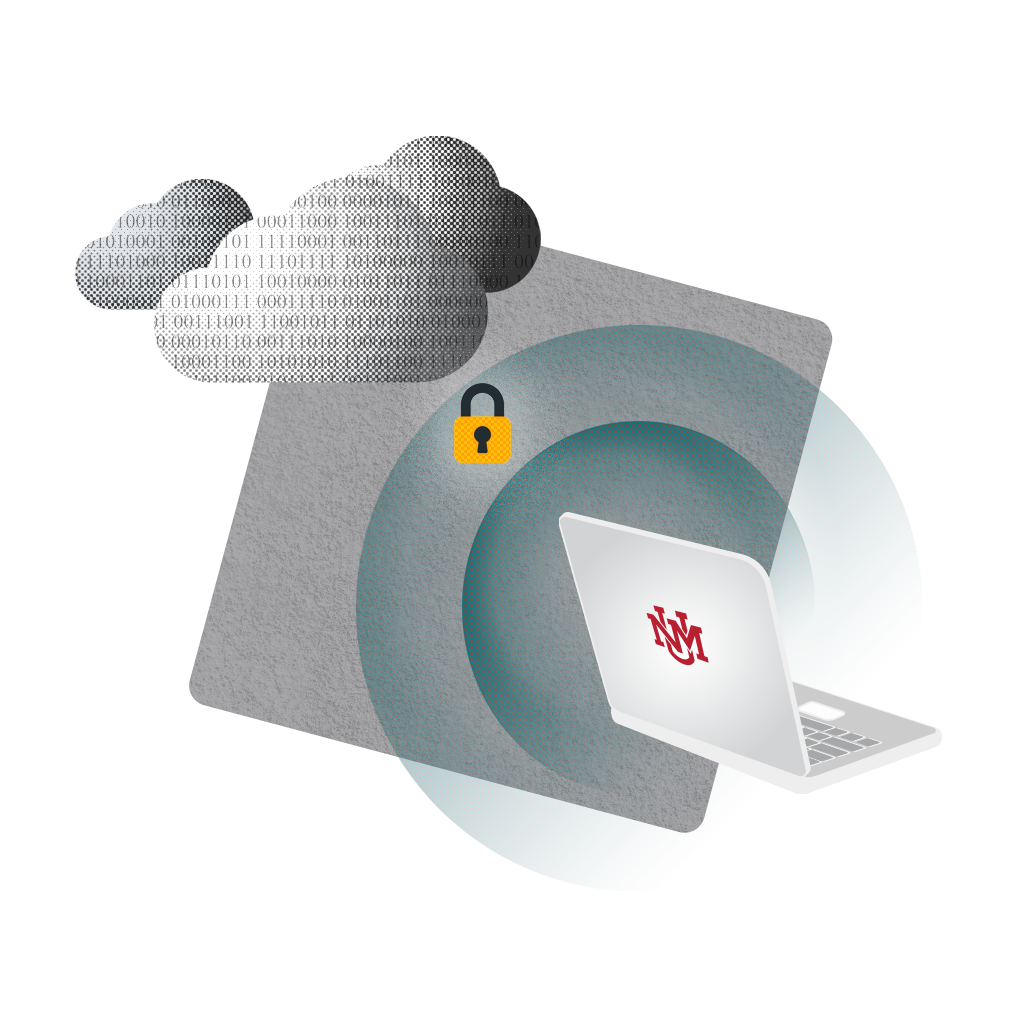 For high stakes meetings or work, it is recommended that employees have a backup plan for tethering their computer to their cellular device and/or have identified a known alternate secure access location. For telecommuters, that backup plan could be include working on-site using the UNM network when necessary.
3. Phone
Depending on the nature of the employee's job, they may need access to a telephone. For most jobs, much of the day-to-day internal communication can easily be handled through the voice and video capabilities of Microsoft Teams and Zoom. For positions that require an employee to answer a phone as part of a service or help desk, UNM IT has been developing a service for usage of a "Soft Phone." For employees that require more infrequent or more mobile access to a phone, a cell phone or a forwarded land line may also be an option. During the pandemic, many employees chose to change their voicemail to instruct callers to leave a message, and then checked voicemail regularly.
Cell phone – UNM provides two options for supporting employees who need a cell phone. A basic cell phone (not a smart phone, supports voice dialing and texting) is available by contacting UNM IT Customer Support Services at 505-277-5757. Basic phones require the department to pay monthly service fees for each device. Check with the service desk for current pricing. UNM also supports an employee cell phone reimbursement program for employees, dependent on business need and available departmental funding. Please check with your department for information on the cell phone reimbursement plan.
Soft Phone – Soft phones use Voice over IP (VOIP) technology and allow an employee to answer their UNM phone number using a small application running on their computer. Soft phones can be deployed individually or as part of an ACD phone tree. This service is still in development and has limited capacity currently. Please contact UNM IT Customer Support Services at 505-277-5757 for information.
Land Line – UNM land lines can be forwarded to external numbers and/or employees can regularly check voicemail from off-site and respond using their own number. Information on setting up voicemail and call forwarding can be found online. Simple UM (Unified Messaging) for email is available by request. Through Simple UM, the system can send users an email when they receive a voicemail message on their UNM phone line. The email contains the phone number of the person that left the message and can include an attachment (WAV file) of the voicemail message if requested. More information on Simple UM is online at: https://UNM.custhelp.com/app/answers/detail/a_id/7827/kw/voicemail
4. Meeting Rooms
Departments supporting a hybrid of remote, telecommuting, and on-site workers need to think about how they will facilitate meetings. The simplest approach to meetings in a mixed group is to host the meeting as a virtual event with all participants joining from their own device from their own location. This will provide the best audio experience for everyone and the simplest support.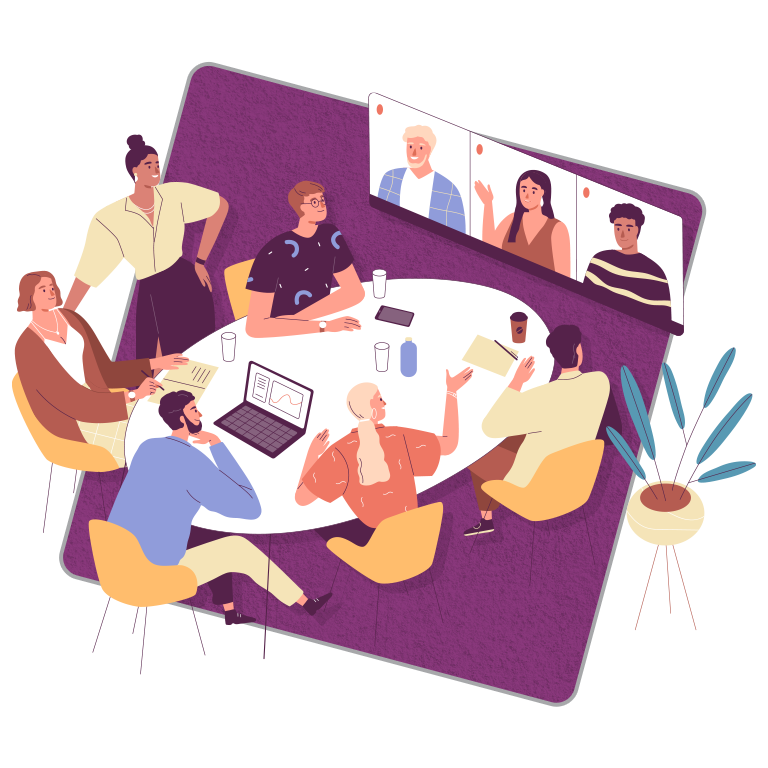 Small Groups (<5 People)
Small groups may be able to make a meeting work with remote participants using the microphones and speakers in their laptop or handheld device. Some experimentation may be needed to ensure that room conversations are audible to remote participants and that cameras pick up participants in the room, if needed.
Using a small echo canceling speaker (wired or wireless) may improve the experience some, as will an external camera that can be positioned as needed. Many companies are experimenting in this space, including Jabra, Logitech, and Dell.
Medium Groups (5-10 People)
For medium size meetings (5-10 people), more elaborate systems with multiple microphones, louder speakers, and pan/tilt/zoom or follow-the-speaker cameras may be needed to ensure inclusion of remote participants. Many vendors including Logitech, Jabra, and Owl Labs have standalone web-conferencing devices that can be plugged into a computer and work well for medium sized meetings
Large Groups (10+ People)
Large meetings and events are not easy to facilitate for remote participants unless the event is entirely virtual or it is held in a room with technology installed to facilitate virtual participation. This includes cameras, microphones, and displays that increase access and inclusion by remote participants. Expensive to install, there are a limited number of these conference room spaces on campus. UNM IT is available for consultation on developing these spaces.
Very Large Events
Very large events should consider scheduling in the Student Union Building or one of UNM's lecture halls that is preconfigured for supporting lecture capture.
Mixed Modality Events in the Student Union Building (SUB)
The SUB has recently updated our meeting and ballroom spaces with new audio-visual capabilities. The SUB can now offer live streaming of events in the ballrooms, Lobo A&B as well as other locations within the building by using our mobile cart. Each of these rooms are equipped with cameras that can zoom and scan across the room to work for most event set ups. Through this system we can also host hybrid events with participants at the event and those on Zoom. Our new SHURE conference system is made up of wireless microphones that are tied into the house system, so the audio is heard within the room as well as to those listening in via Zoom or live streaming. The wireless mic system can be set up for larger board meetings or panel discussions.  
Eleven of our meeting rooms now also have wall mounted LCD monitors with a Logitech webcam. This gives customers the opportunity to host a meeting and have individual participates via Zoom or Teams. The monitor is 75 inches with various adaptors available depending on the device. We require the use of SUB laptops for these rooms with an exception for UNM departments who may use their own laptops. Please note: Our staff will be unable to assist with departmental or personal equipment.  
 Any department interested in coming over and viewing the equipment prior to organizing an event is welcome to schedule something with the AV team. All scheduling and pricing inquiries can be sent to the SUB's Events and Conferences office at 505-277-5498. 
5. Signatures, Workflows, and Approvals
Whether supporting remote workers and telecommuters or simply streamlining workflows and approval queues, electronic signatures offer a significantly simpler process for document routing, approvals and signatures—especially when approving entities are not physically adjacent. UNM has an enterprise license for Adobe Sign that can be used for a wide variety of documents. Visit https://creativecampus.UNM.edu/adobe-sign.html for information about how to get started with using Adobe Sign for electronic signatures.
6. Remote participation in University Events
There is likely to be ongoing demand for remote participation / viewing options for large university events such as a lecture series, a presidential town hall, or a Regent's meeting. Due to technical and resource limitations, many events may not be possible to facilitate as a hybrid event for remote participants.